1. In general, only the following persons may enter Spain:
Spanish citizens
Residents in Spain, where they must prove primary residence (it is not sufficient to own a property in Spain or a second home)
Cross-border workers and other workers due to employment reasons
Health professionals and professionals who care for the elderly that come to carry out their employment activity
Those who prove force majeure or an emergency
Diplomatic, consular and other personnel from international organisations outside Spain for performance of their duties
Carriers of goods (ship and airline personnel) provided the continuation of their trips are ensured
In all other cases, as well as cases of insufficient proof, denial proceedings will be initiated for entry into Spanish territory. These proceedings may be performed in the country of origin with the collaboration of the other EU Member States and the Schengen Countries prior to arrival.
The effects of this measure begin at 00:00h on 15 May 2020 (Friday of this week) and shall last until 00:00h on 24 May 2020, without prejudice to the possible extensions that may be agreed.
2. Quarantine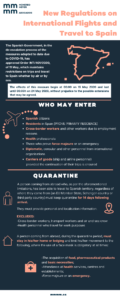 A person coming from abroad who, in accordance with the aforementioned limitations, has been able to travel to Spanish territory, regardless of where he/she came from (an EU Member State, Schengen country or third party country) must be under quarantine for 14 days following arrival, in addition to providing personal and localisation information in order for the appropriate monitoring and follow-up measures to be taken.
Excluded from the obligation of keeping quarantine are cross-border workers, transport workers and air and sea crew, as well as health personnel who travel for work purposes.
A person coming from abroad, during the quarantine period, must stay in his/her home or lodging and limit his/her movement to the following, where the use of a face mask is obligatory at all times:
The acquisition of food, pharmaceutical products and basic necessities;
Attendance at health services, centres and establishments;
Force majeure or an emergency.
Furthermore, all hygiene and other measures to prevent the transmission of the disease must be taken. One must contact the health services in the corresponding autonomous community by telephone in the event that any symptoms of COVID-19 should appear. The contact numbers can be found here.