How to manage the family's assets? How to optimize the access thereto by the following generation?
We join the services of our tax, real estate and commercial areas to offer you the best tax planning and assessment, investment management, establishment and management of family offices, as well as advise on private equity, real estate investments, estate management and inheritance, all of this on grounds of prudence and risk control criteria.
Our clients are international. Their wealth is not only located in one jurisdiction. To understand this and be able to apply it to the planning is essential for a proper assessment.
Publications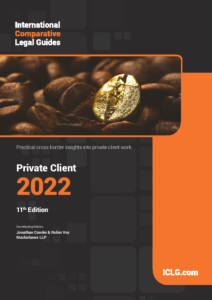 Partners Gustavo Yanes (Tax), Christian Krause (Corporate and M&A), Michael Fries (Dispute Resolution), and Monika Bertram (Labour) are the authors of the Spain edition of the latest International Comparative Legal Guide – Private Client Laws and Regulations 2022 (Spain: Private Client Laws and Regulations 2022).  In this publication, they examine and explain key issues affecting private client work in Spain, including pre-entry tax planning and several types of taxation: Private Client 2022 | Laws and Regulations | Spain | ICLG.