The different phases reflect a gradual reactivation of the Spanish economy and lifting of social restrictions, which currently apply due to the nationwide state of alarm (currently until 9 May 2020).
Transitioning to the next phase must be approved by the central government on a case-by-case basis. In order to transition, the different provinces must prove compliance with certain safety measures at the municipal level to the central government.
The table highlights the most important measures in the different areas by phase: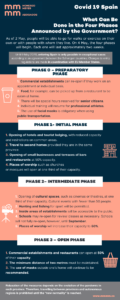 We have compiled the most important measures of these phases in the attached PDF file.
Stefan Meyer
Partner | Abogado & Rechtsanwalt
[email protected]
+34 91 319 96 86