We mainly advise employer companies in all matters related to recruitment, employment conditions, due diligences, warnings, dismissals, relocation abroad, social security, occupational risk prevention and, in general, in any issue related to their daily activity in employment matters, to include representing and defending their interests, both before the public administration and the courts.
We also manage and support our clients in any collective proceedings in which they are involved, such as collective dismissal proceedings (E.R.E.), collective bargaining agreements, trade union matters and temporary labour force adjustment plans (E.R.T.E.).
We also provide advice to individuals in order to specify their employment relationship, to resolve disputes, challenge dismissals, etc.
We specialise in negotiating and drawing up ordinary and special employment contracts, as well as negotiating and drawing up contracts for future members of the management body of their employer company.
In addition to Spanish, our lawyers are fluent in German and English, allowing us to provide well-rounded legal advice to clients of any nationality.
Publications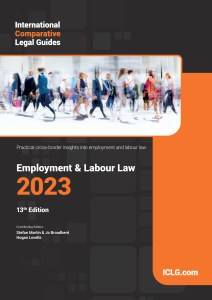 Partner and head of our Labour Department, Monika Bertram, and Anna Martí Belda, associate, are the authors of the latest International Comparative Legal Guide - Employment & Labour 2023 (Spain: Employment & Labour Laws and Regulations 2023). In this report, she sheds light on key aspects of employment law in Spain: Employment & Labour Laws and Regulations Report 2023 Spain (iclg.com)